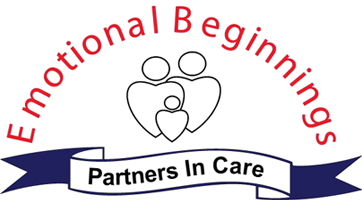 What makes the Emotional Beginning Program work?
It is based on sound educational and psychological research
Research models developed by Liz Bates, T. Berry Brazelton, Robert Emde, Stanley Greenspan, Louis Sanders, Allan Sroufe, Edward Troinic and Lev Veygotskey serve as the theoretical frame work for the Emotional Beginnings Program .
It utilizes the expertise of all of the partners in the process
Child
Childcare Provider
Parent
Program Supervisor/Administrators
It is experiential
According to research, supervised practice and coaching are critical to the effective integration of new skills into a person's behavioral repertoire. Setting up an opportunity for the childcare provider and child to interact with one another and offering technical support is an integral part of the EB Staff Development Model.
It has a positive effect on relationships
Development of a monthly "Caring Connection Plan" by each caregiver helps caregivers to increase emotional availability skills and build a positive relationship with each child. Emotional availability is being able to read, listen and respond appropriately to others' emotional signals. Children who have emotionally available caregivers learn more and are more psychologically stable, they show more resiliency and ability to be independent and problem solve.
It is child focused
Emotional Beginnings (EB) is designed to involve the child as the teacher by focusing the childcare provider on the child's needs and emotional communication. EB's use of the "Caring Connection Plan" allows the children to teach, which validates and empowers the provider.
It is FUN!
Sharing positive experiences makes learning fun for childcare providers and children.
The Emotional Beginnings Units
The EB 4 Step Staff Development Format
In-service Session
Site Coordinator presents a topic and shares techniques in an interactive 90 minute session.
Personal Plan of Action
At this in-service session the Site Coordinator will collaborate with each caregiver to establish a personal caregiving plan that relates to the topic presented.
Technical Assistance for Child Care Providers
One hour is set aside for each caregiver to practice integrating their caring connect. plan with the support of the site educator.
Assessment and Reflection
Feedback is essential to learming, it allows the childcare provider to assess the outcome of the caring connection plan.
The Emotional Beginnings Curriculum
The EB Training of the Trainer
What to expect at a Training of the Trainer
Certified How To Read Your Baby Trainer
Innovative training strategies
Practical applications
Parallel processing
Time to practice new skills with coaching
Hands on experience using the EB Program
The opportunity to strengthen you knowledge of emotional availability
Follow up consultation